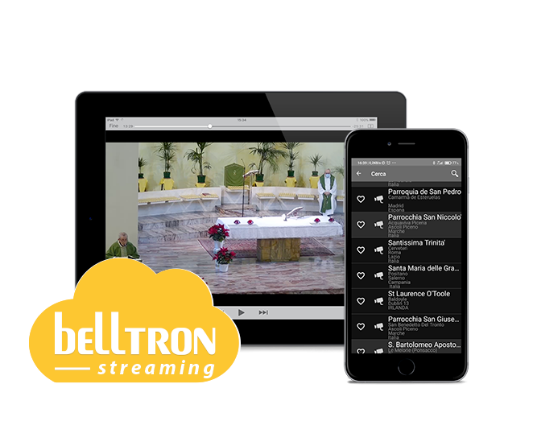 THE HOLY MASS ON STREAMING
FROM ANY OF YOUR DEVICES
Belltron has designed its own ISAC system (Internet Speach Audio Codec) which allows the worshipers to watch and listen to the celebrations of their parish via Smartphone, Tablet or PC by simply downloading the free dedicated APP with no subscription fee required.
The free APP is available in both the Apple & Android service to watch live or on a rescheduled basis. No subscription costs required!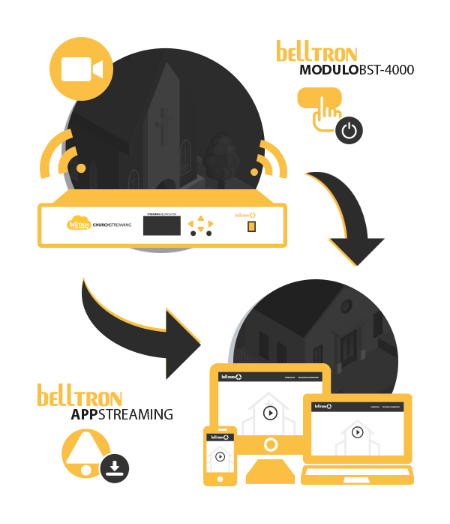 INTUITIVE AND EASY TO USE
FOR PARISHIONERS AND PARISH PRIEST
Belltron-Streaming is particularly easy to use for both the parish priest and the parishioner.
The parish priest has to simply install the BST-4000 module and turn it on to operating mode.
The parishioner has to download the APP (or use a PC to connect to the Belltron website at www.belltron.com) and select the parish of its choice.
Live streaming will start automatically..
If there are no functions offered at that chosen time then the previous church function will be available to watch.
REQUEST INFORMATION
DO YOU REQUIRE INFORMATION
ABOUT THE BELLTRON-STREAMING SERVICE?
CONTACT US