The new Belltron Digital Carillon
Date: September 16, 2014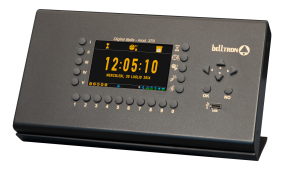 Ever since 1980 Belltron has worked to continuously improve its products and meet the new requirements  of the more attentive parish priests. Today Belltron presents the 370 digital carillon and cast bell controller.
Powerful performance, affordable for everyone. The new DMC / GM 370 offers high quality standards and performance at an unbeatable price.
The main features of the 370 are the internal relay boards and the renewed 5" colour display. Design and software are perfectly aligned to all the products of the upper series.
Our sound company offers a simple approach for beginners but also pays attention to those who need fine quality audio and complex programming. Built to last, the digital carillons and cast bell controllers of the 370 series adapt advanced features using the best of today's technologies.