The opening ceremony of the Belltron system in Belarus
Date: July 30, 2019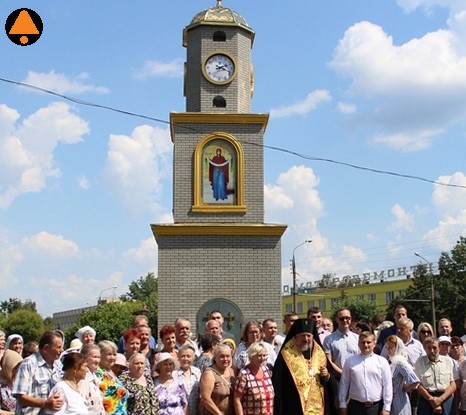 The solemn ceremony of the "Blagovest" system was held on July 23 in Gomel, a city in southern Belarus.
The clock tower in Gomel has a clock face on each of its sides, which aims to be a point of reference for the whole city.
Belltron installed the ROB gear system in the tower clock. It is a special digital device which guarantees total clock hand precision to the second for absolute precision for a life time.
The Archbishop Stefan attended the ceremony.
After the ceremony a citizen said : "The clock tower is a sacred building that will enhance one of the corners of our city. With its sound, it will remind us of our immortal souls, which is a calling to God to find our way in the Kingdom of Christ,"
In fact, the clock tower in Gomel is not only a useful and reference device for knowing the exact time, but also a religious and patriotic symbol.
Furthermore, an omnidirectional speaker (DF-400) was installed on the tower to broadcast Russian folk music after each hour beat. Hundreds of popular songs alternate depending on the day, week and year. This is possible thanks to the Belltron digital bell system (DMC-370), in which the traditional melodies have been recorded and programmed to play.
The Archbishop Stefan awarded medals, episcopal certificates and gifts to all those  involved in the accomplishment of this work. At the same time the citizens distributed icons for the memory of prayer.
The "Blagovest" clock tower was erected following the proposal and involvement of private funds. A large amount of people came to this important solemn opening ceremony.
As for us, we are really proud to have reached yet another goal and to have responded totally to their requirements in order to achieve full customer satisfaction.
Photo: Vlad Vasiliev
Link to the article published by the newsgomel information portal